DRV accountants & consultants | new office | Breda
11 december 2020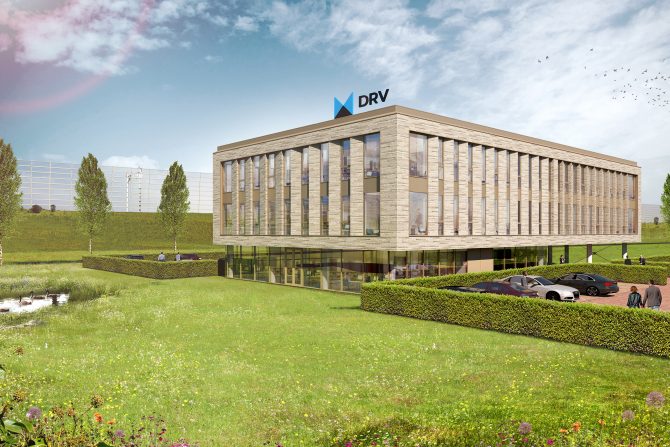 DRV Accountants & Advisors will establish itself again in Breda in the autumn of 2021. On the business park 'Rithmeesterpark' Winters construction & development realizes a beautiful, functional new building for the almost 70 accountants, tax specialists and specialists who now work in Oosterhout. The Breda alderman Boaz Adank gave the official go-ahead for the construction on December 11th by unveiling the building sign.
DRV has been looking for a suitable visible location in Breda for a long time. A location where a contemporary, open working environment can be created that fits the way DRV works. The beautiful office building is a design by Rienks Architects and has a surface area of approximately 1,775 m2.
Because a suitable building location proved difficult to find for a long time and there was a great need to merge the teams in Breda and Oosterhout, the Breda team was temporarily incorporated in Oosterhout at the end of 2018. Over the past two years we have worked pleasantly in Oosterhout and had a good time', says Jan van Zon, accountant and partner. But Breda offers a large number of advantages that are important to us. We want to be close to all our clients. Breda is centrally located in our catchment area. The Rithmeester Park is right next to the A16 motorway and has good access routes. Moreover, DRV is growing and we need a continuous growth of new colleagues, professionals and students. For students in Breda, we will soon be more accessible, but for students from Tilburg who can reach our new office faster by public transport'.
DRV Accountants & Advisors has more than 600 employees spread over 12 offices in the southwest of the Netherlands. In Brabant, DRV also has branches in Bergen op Zoom and Roosendaal. The office was established in Zeeland in 1922 and has shown steady growth, particularly over the past thirty years, in terms of turnover, number of employees and breadth of service. In addition to accountancy, tax advice and services in the area of personnel and salary, DRV is active in a number of specialist areas. These are partly divided into separate business units, such as services in corporate finance and strategic advice (Crossminds) and to high net-worth individuals and entrepreneurs (Zantboer & Partners).
De Lobel & Partners – real estate experts assisted DRV in the housing process. After a structured process, in which a contractor/developer and a final investor were sought, the choice fell on Winters construction & development, which will do both the development and the realization. The object to be realized, which is rented by DRV for many years, has been sold to a group of private investors.
DRV was legally advised by Schaap Advocaten Notarissen. Winters Construction & Development was legally advised by Weebers Vastgoed Advocaten.